World's Tallest Chiropractor
Dr. Torsten Stein, B.S. D.C.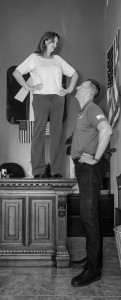 Being 7'2" and having played professional basketball, he has experienced herniated discs and excruciating back pain himself. Just like you, he has gotten only slightly better with all kinds of treatments – until he found chiropractic.
A medical doctor friend turned him on to the Gonstead System. Based on mechanical principles, it provided scientific results and a true correction.
After a few adjustments, his pain disappeared and he actually regained his health. His new dream was to help people who have a hard time getting better, get well. He became a Gonstead Chiropractor himself and follows his true passion:
Helping the hopeless get well.
Patients commute from all over Arizona such as Ahwatukee, Chandler, Gilbert, Glendale, Mesa, Peoria, Phoenix, Scottsdale, Sun City, Surprise, Tempe and Flagstaff to see Dr. Stein on a regular basis. Additionally, people travel from as far as Europe, mainly Austria and Germany to by treated.
Click here to see Dr. Stein's life size hand print.